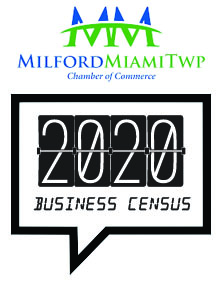 The Milford Miami Township Chamber of Commerce is celebrating over 72 years of service to our community in 2020. Our vision is to identify and focus on creating value and supporting our local businesses, and cultivate membership through advocacy, education, community development, and economic growth. We are excited that you and your business want to be a part of the Chamber network, and we look forward to working with you.
Though we do encourage a paid membership, we feel it's more important to know the make up and demographics of our business leaders and entrepreneurs in our historic hometown. Therefore we are asking all businesses to register with the Milford Miami Township Chamber.
When registering without payment select the option 2020 Business Census. There will be no fee charged. We want to include all businesses in our area regardless of a paid membership application.
Milford Strong This historic and unprecedented change in the way we live and interact has caused a sudden and immediate need in Milford Miami Township to protect our local businesses. Now a movement is underway to promote local gift cards for purchase in the Milford Miami Township area to keep cash flow going for our local businesses. Gift card purchased today will keep the lights on for our retailers. Any business that is a member of either HMA or the MMT Chamber are eligible to participate. If you are not currently a member of one of these organizations, we hope you'll join one or both of us! ~If you're tight on cash, no problem – join now, get promoted through Milford-Strong, and when this is over and your business is more stable, you can pay for your membership then. ~ Your business does not need to be open currently – you just have to be selling gift cards! If you need help setting up gift card sales, contact us and we will help you get going (it's fast & easy). Next: Send your logo (as large and as hi-res as you have) plus your website link gift card sales link, to historicmilford@gmail.com. We are planning to launch the website soon, so please fill out your information asap . Knowing how many businesses are interested in participating will help us know how to proceed with the final site. We will be publicizing this new site in a variety of ways, with the goal of driving not only local people, but customers from Greater Cincinnati to our local businesses. If this site is successful, it is something that can potentially remain past COVID-19. When we launch, we will send out the link and ask you to promote through all your standard channels. Thank you for participating in Milford-Strong. Together, we will succeed!

For those that do want to enjoy the benefits of membership with the Chamber. please select your membership level based on the number of full time employees who work for your company/organization (two part time employees equal one full time employee).